Shopping Help
Buying Global Management Challenge products is really simple:
Go to products page
Find a tool, analysis or report that is useful for you
Read the description
Look at the sample images of the product you have chosen
Put the product to you shopping cart
Continue shopping or checkout
At the checkout page you will be asked for a little information
And you can proceed with payment through PayPal (If you do not have a PayPal account you will be able to choose a payment card)
Pay for what you ordered
And you will immediately get a link to download the file on your email and on the site too
That´s it! Fast and secure.
If you have some questions, just ask in comments or write us an email.
Currency
All items are listed with prices in Euro on the site. However, it does not matter what country you are ordering from. The price will be calculated with the actual exchange rate for you. You can check the exchange rates at your bank´s site.
PayPal / Card Payment
You can either pay with PayPal account or any payment card. If you want to pay with a card just select in during the process as shown below. PayPal accepts Visa, Master Card, Maestro, Delta, Electron, Eurocard, American Express, Discover or PayPal Top Up Card.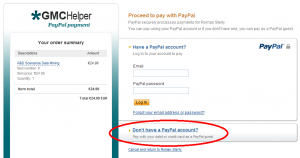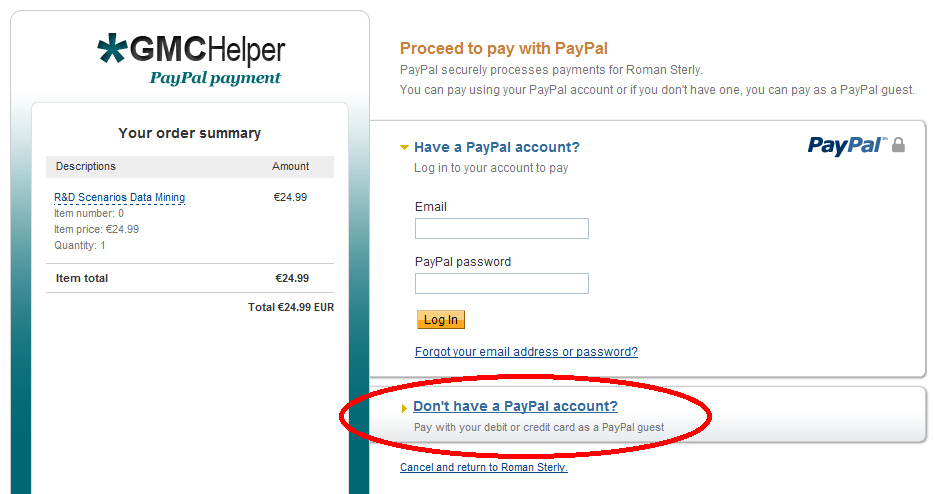 Get a Discount
There are various ways how you can get more for less. Maybe you have a site or a blog – write an article about GMCHelper or link to us from your existing content / footer. You can also help us with translations of our www.global-management.net site to your local language. Or you find another way of promotion, we are open to hear your ideas.
If you want to get a discount, just ask for it and offer something in return. The discount can vary depending on what you can do and can go from 1% up to 100%! Contact us in case you are interested.